mindful intent for individuals
mindful intent works with individuals to help improve self-awareness, wellbeing, balance and health.  2019 will be a transition year for us.  We invite you to join one of our practice groups or contact us for specific requests.

For 2019 we're offering mindfulness meditation group sessions starting Term 4.  The purpose is to help you stay connected to your mindfulness practice and give you an opportunity to practice with others.
Benefits:
Helps keep your meditation practice on track;
Practicing with others is inspiring;
These sessions are open to those interested in mindfulness meditation as well as past participants of our courses;
This is mental fitness training!
Structure:
One hour session
Each session begins with a 30 minute guided meditation practice
30 minute discussion combination of small groups first and then in the large group discussion
Fees:
Signing up for the 10 sessions is $110
Our booking button for Term 4 is open now.  If you want to join Term 3, please contact pamela@mindfulintent.com.au to book. Pro rata rates are available and drop ins accepted at $15/session, bring exact change cash.
2019 Dates:
Term 3 – Thursday evenings 6-7 pm
Sessions:
July 4 through 5 September, 2019
Term 4 – Thursday evenings 6-7 pm
Sessions:
3 October until 12 December – no meeting 24 October
Location:
The Hobart Breathing Space, 13b Goulburn Street, Hobart
Further questions?
Email: Sarah@mindfulintent.com.au
There are limited spaces.
Getting Unstuck
mindfulness-based stress reduction
Getting Unstuck is designed to help you reduce your stress, calm and clarify your mind, cultivate and sustain your capacity to pay attention and create more purposeful action. Current research indicates that training in mindfulness-based stress reduction can lead to more effective handling of negative emotions under stress. In addition, studies have shown an increase in the body's immune response and an improved ability to deal with physical discomfort. Based on research from the emergent field of mind-body medicine, Getting Unstuck will help you take responsibility for your own wellbeing. This experiential course will provide you with tools to guide and support you long after the course is completed. Download the PDF here Getting Unstuck Brochure
Mindfulness Based Stress Reduction is being taught through Mindfulness Programs Australasia.  Please contact them with your interest.  www.mindfulnessaus.com.au
The pain that I felt when I started the course has changed. It has reduced and I'm aware of it changing over the day. I'm also conscious of the effect my thoughts have on anxiety and on the pain—so, my role in things.
At mindful intent, everything we do is aimed towards helping you to live with intention.
The course has helped me to be more aware-mindful of what is going on around me and in my thoughts. It has helped me to be more relaxed, in tune with my body and more mindful of others.
Remember, Restore, Renew
A Mindfulness Retreat at the Bay of Fires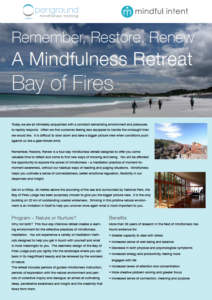 Today we are all intimately acquainted with a constant demanding environment and pressures to rapidly respond.  Often we find ourselves feeling less equipped to handle the onslaught than we would like.  It is difficult to slow down and take a bigger picture view when conditions push against us like a gale-forced wind.
Remember, Restore, Renew is a four-day mindfulness retreat designed to offer you some valuable time to reflect and come to find new ways of knowing and being.  You will be afforded the opportunity to explore the power of mindfulness – a meditation practice of moment-to-moment awareness, without our habitual ways of reacting and judging situations.  Mindfulness helps you cultivate a sense of connectedness, better emotional regulation, flexibility in our responses and insight.
Set on a hilltop, 40 metres above the pounding of the sea and surrounded by National Park, the Bay of Fires Lodge has been purposely chosen to give you the bigger picture view.  It is the only building on 20 km of outstanding coastal wilderness.  Drinking in this pristine natural environment is an invitation in itself to help you uncover once again what is most important to you.
17-20 May 2018  Join us for a mindfulness retreat at the award winning Bay of Fires Lodge. Timothea Goddard from Openground and Pamela Lovell from Mindful Intent will be hosting this retreat.
Registration at www.openground.com.au – A moderate level of fitness is required for the walks on the retreat.  Participants can join us at Anson's Bay at 1.30 pm on Thursday the 18th of May or at 10.30 am at the Launceston Airport.  Because of the remote location of the retreat, participants need to be able to attend the whole retreat.  No late starts or early finishes because there is no transportation except on Thursday the 18th and Sunday the 21st.